SORRY YOU MISSED THIS GREAT SALE!
EVERYTHING IS SOLD!
I'm very pleased to have been given an opportunity to offer the personal property of a sophisticated lady, a patron of the arts,
with an eye and taste for the very best. Highlights include some very fine art, a large collection of sterling silver hollowware, a large
accumulation of bird figurines, and a sizable quantity of the best brand names in many areas, from perfume bottles to shoes, china
to glassware, costume to fine jewelry, and lots more. The quality and depth of items for sale is similar to my SE Portland "Ice Storm"
sale of last year, and should be the one you make sure you go to this weekend.
Also included under the same roof are the very interesting possessions of a world traveler, who, most importantly, picked up a
sizeable collection of Song Dynasty pottery while living for more than a decade in the Philippines. Also included in his estate are a
few unique Pilipino Acacia furniture items, including two roll top desks, a dining table, and two carved chests. There is also
a large selection of Asian artist watercolors, contemporary pots, Indian brass decorative items, and varying souvenirs of his world travels.
FINE ART:
THE TWO PIECES BELOW ARE TWO LARGE IMPORTANT OILS ON CANVAS BY WELL KNOWN AND
WIDELY COLLECTED PORTLAND ARTIST CARL MORRIS. DATED 1960 AND 1961, THEY ARE IN PERFECT
CONDITION, AND OUTSTANDING REPRESENTATIONS OF CARL MORRIS' ART.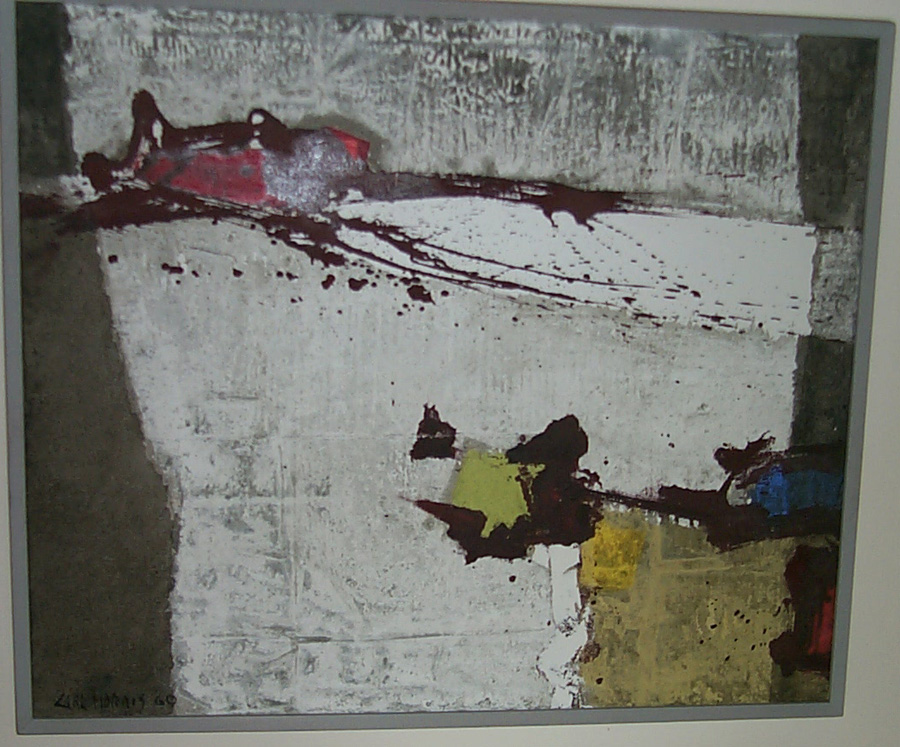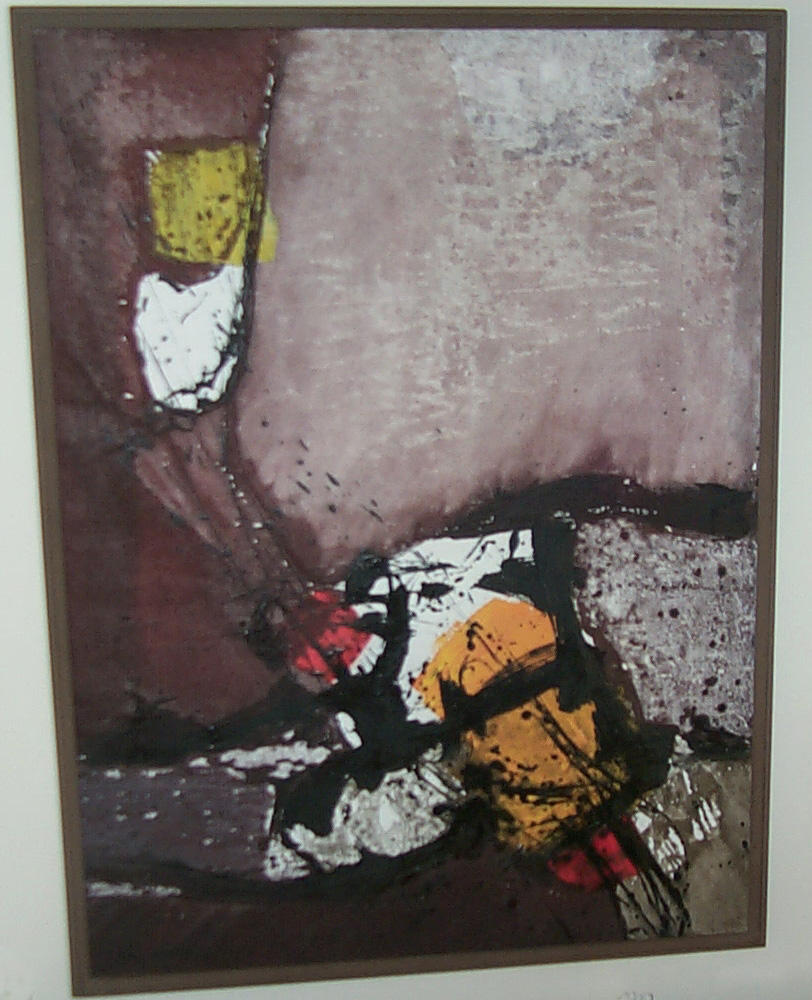 CARL MORRIS UNTITLED SIGNED AND DATED 1960 40" x 48" CARL MORRIS RAPIDS SIGNED AND DATED 1961 48" x 36"
THERE ARE MANY MORE FINE PIECES OF ART IN THIS SALE - BELOW ARE SOME EXAMPLES.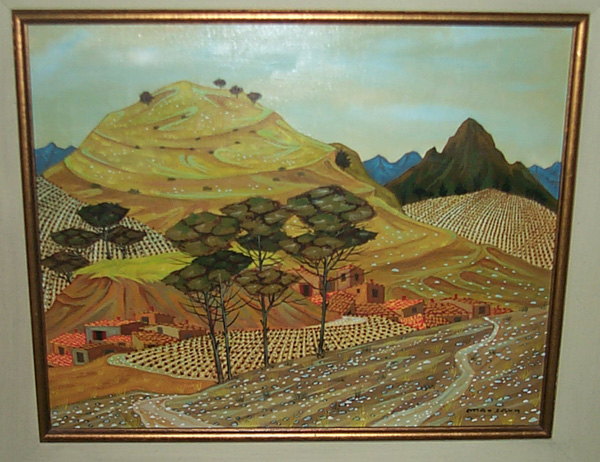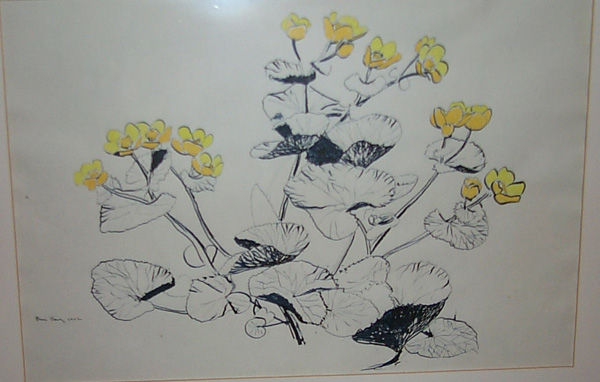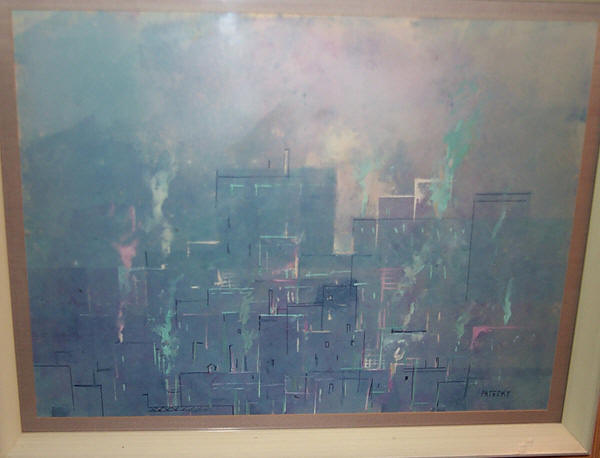 MAX SAVY LE MOUREL JAUNE 1996 13" x 16" TOM HARDY BUTTERCUPS 1962 12" x 18" ALBERT PATECKY CITY IN PURPLE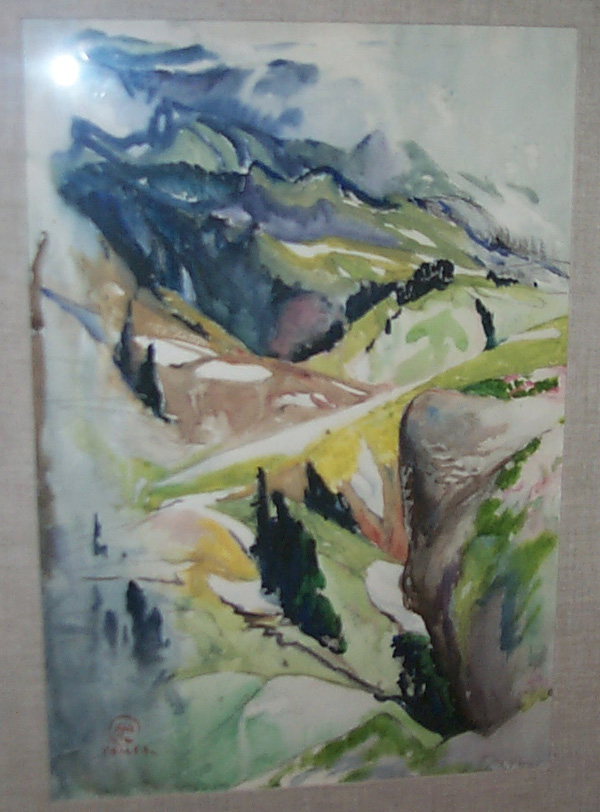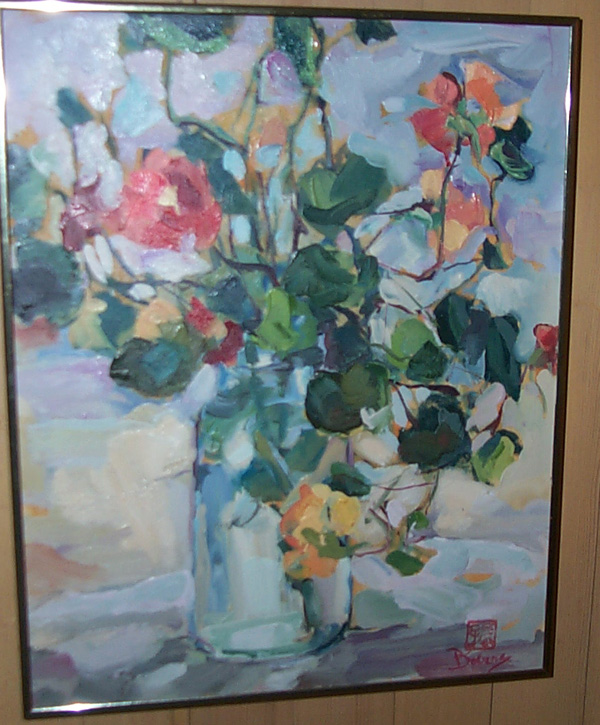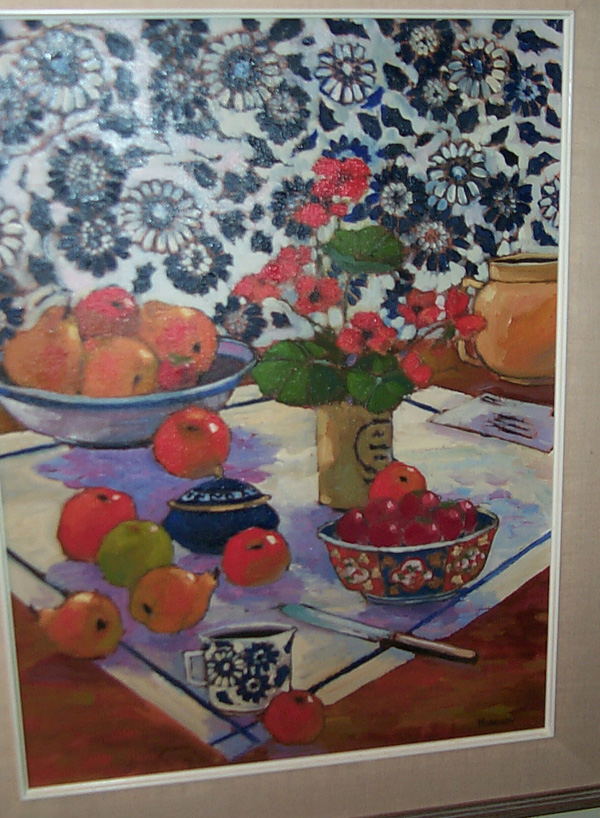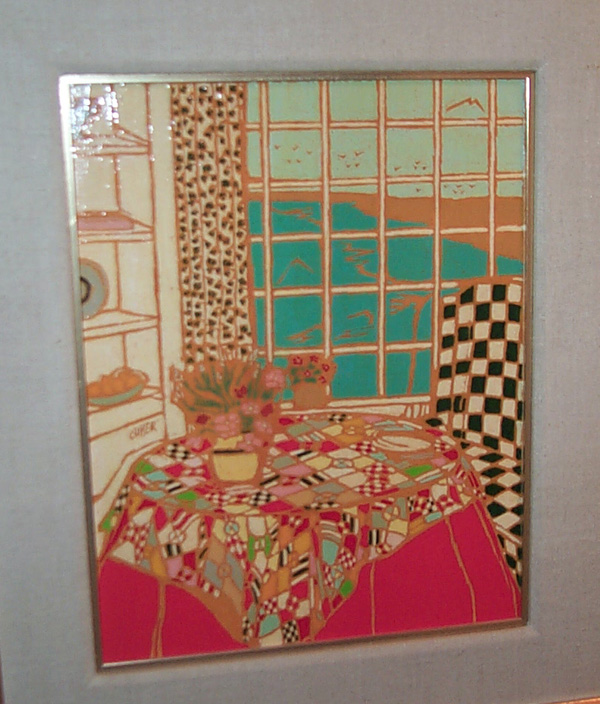 HENRY G. KELLER 1950 21" x 14" D. KOBARE 1983 20" x 16" BRENDA MORRISON 24" x 18" DOROTHY CUTTER 18" x 14"
LOOKING INTO PARADISE VALLEY NASTURTIUMS IMARI BOWL STILL LIFE TABLE BY THE WINDOW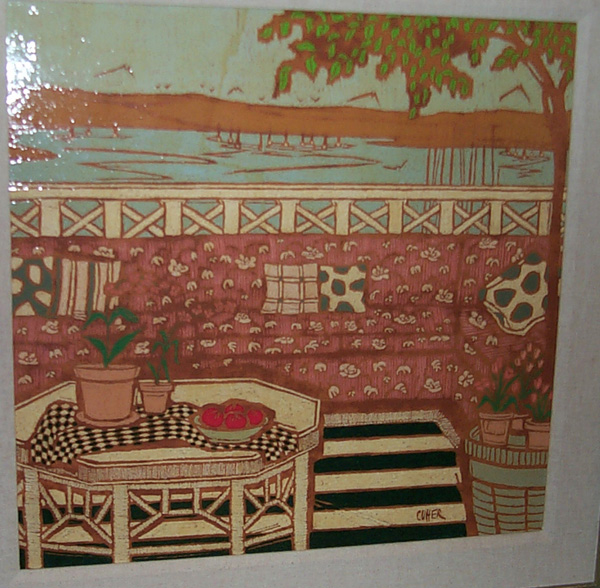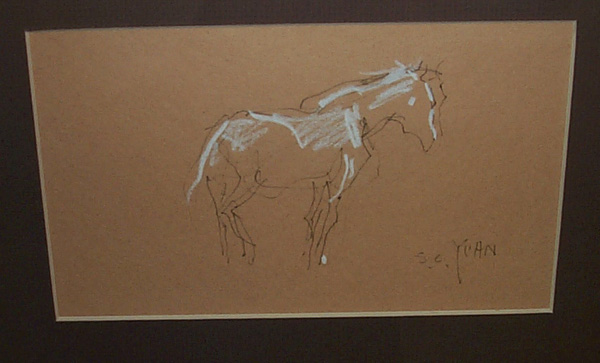 DOROTHY CUTTER 24" x 24" S.C. YUAN d. 1974 6" x 9"
SPRING AFTERNOON IN BVI HORSE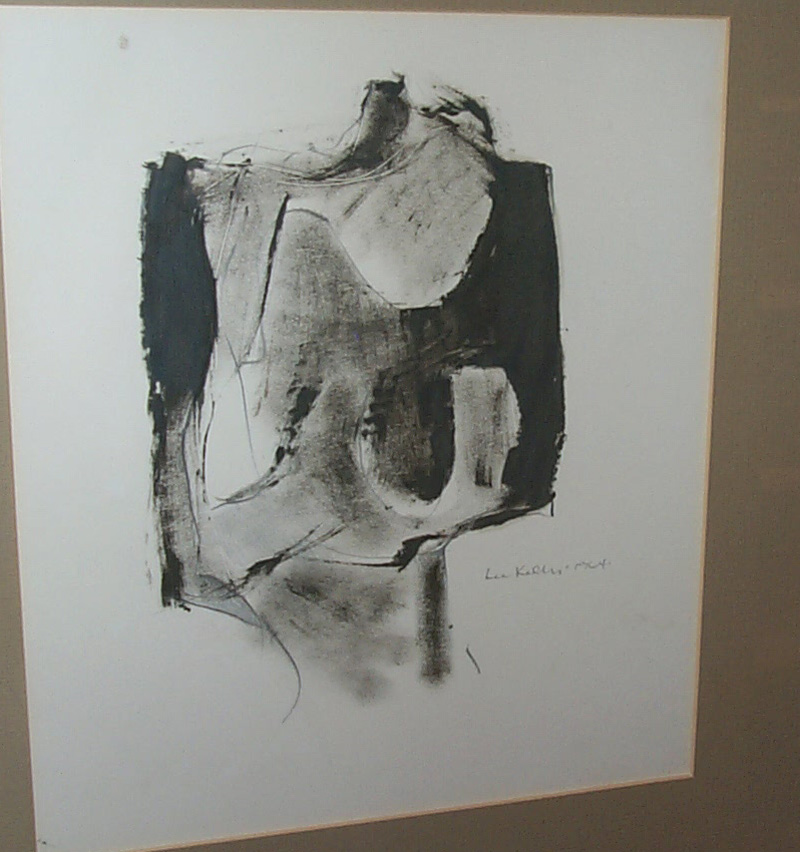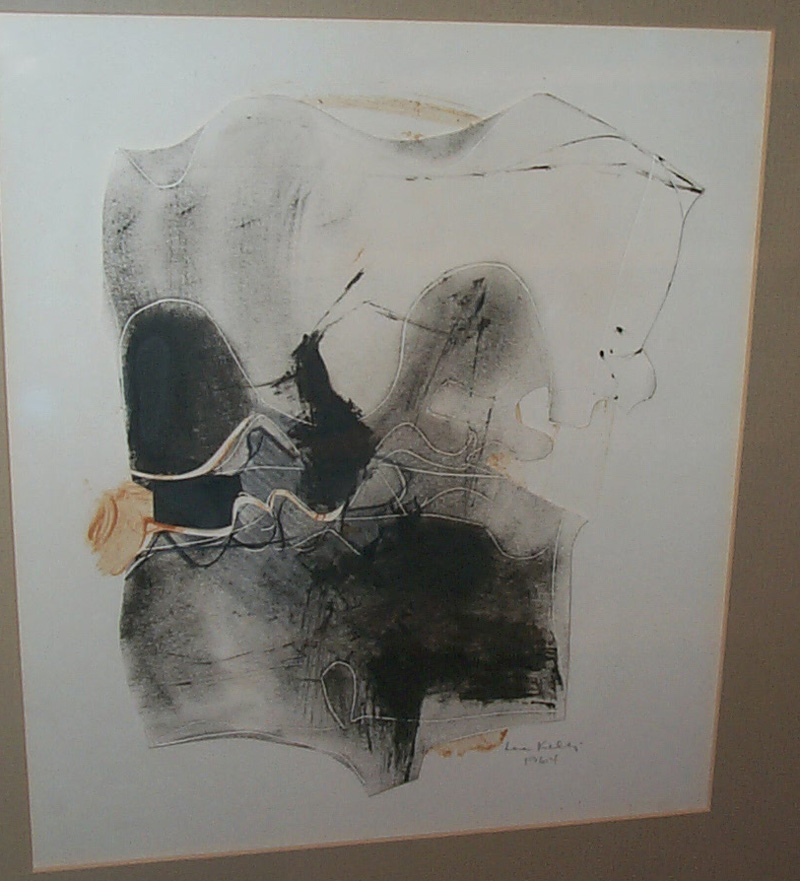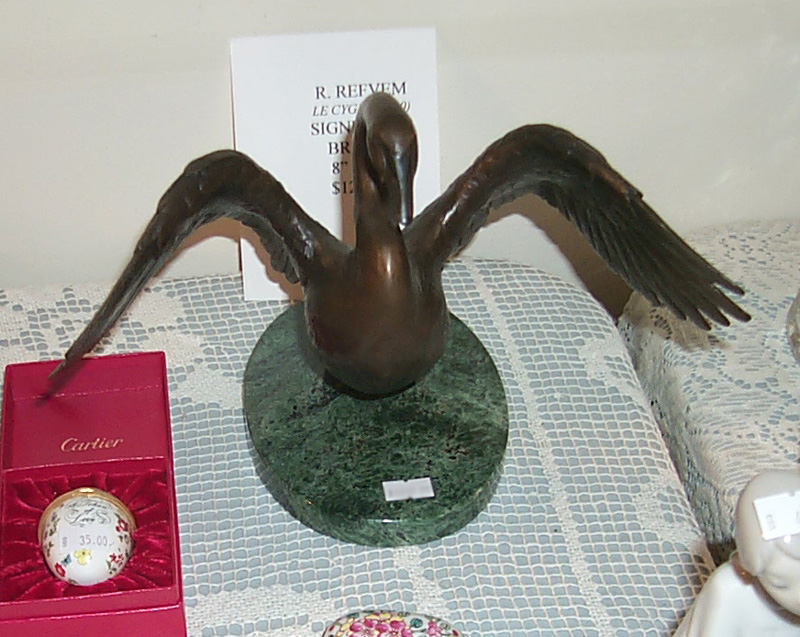 LEE KELLEY, 14" x 18" Titles not known R. REFVEM LE CYGNE (5/30)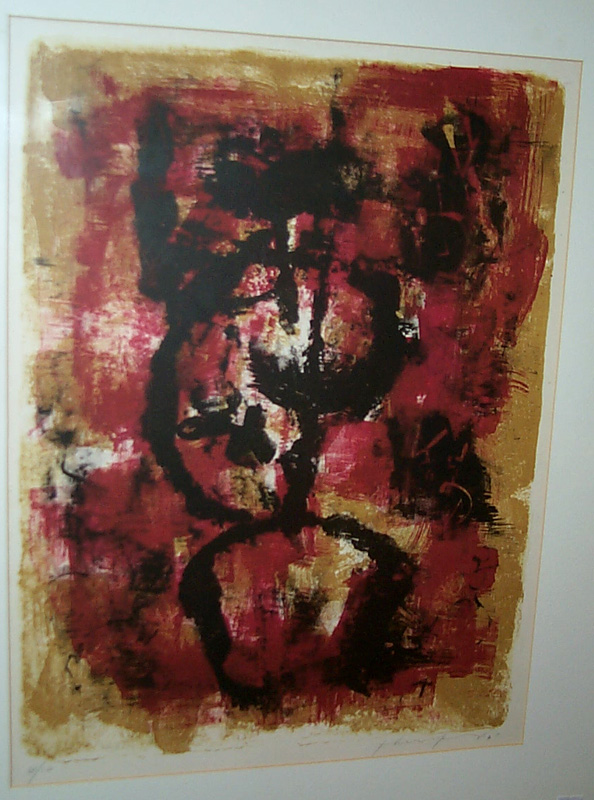 JOHN CHIN YOUNG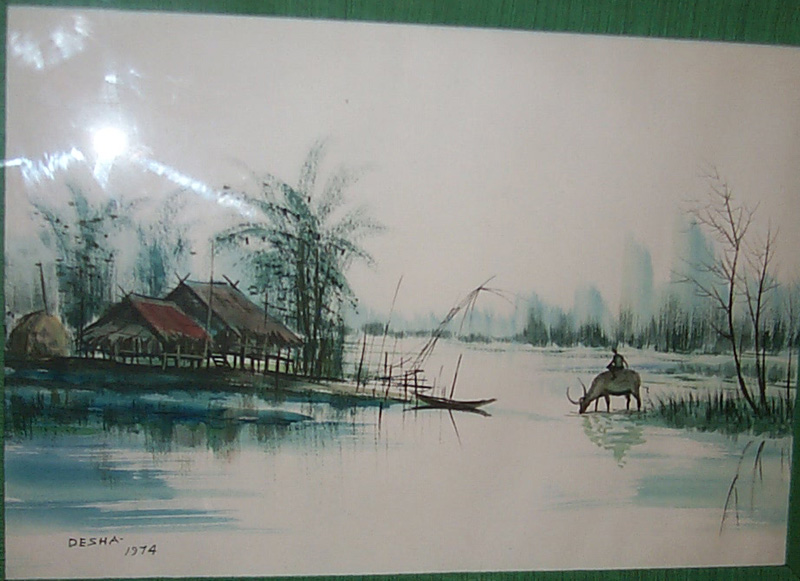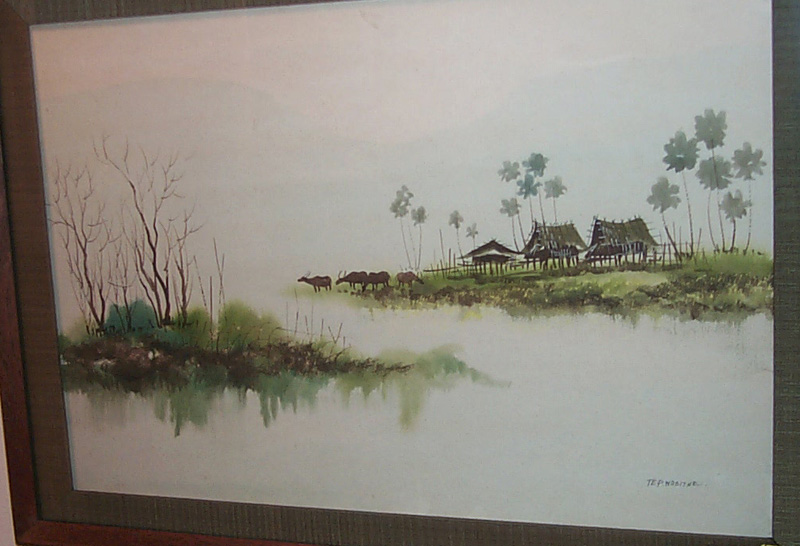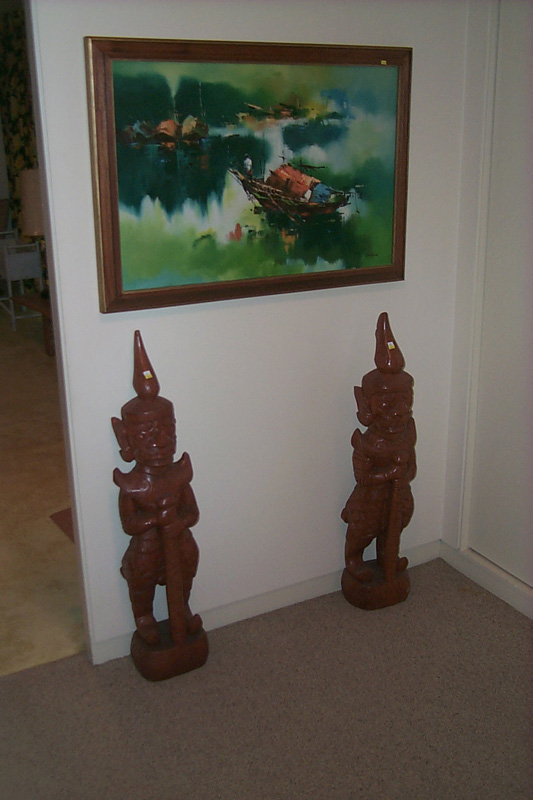 EXAMPLES OF SOME OF THE MANY PIECES OF ASIAN ARTWORK FOR SALE THIS WEEKEND
MORE ART INCLUDES A WATERCOLOR BY CALIFORNIA ARTIST BETTY HARRINGTON, A LITHOGRAPH BY WELL KNOWN HAWAIIAN ARTIST JOHN CHIN YOUNG, AN ARTIST PROOF INTAGLIO PRINT BY SHERI JONES, AN OIL PAINTING BY KATHY SANDY, AND AN OIL PAINTING BY KITTY BUNN.
FURNITURE:
Herman Miller Eames rosewood and leather office chair with ottoman, circa 1960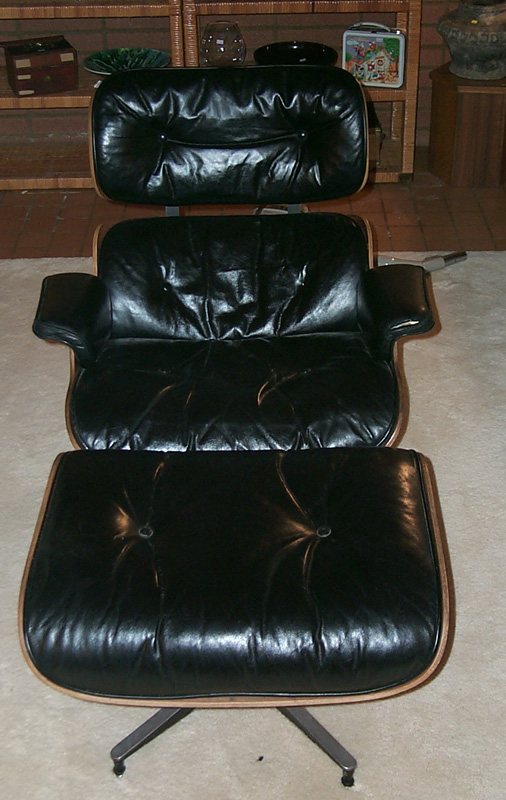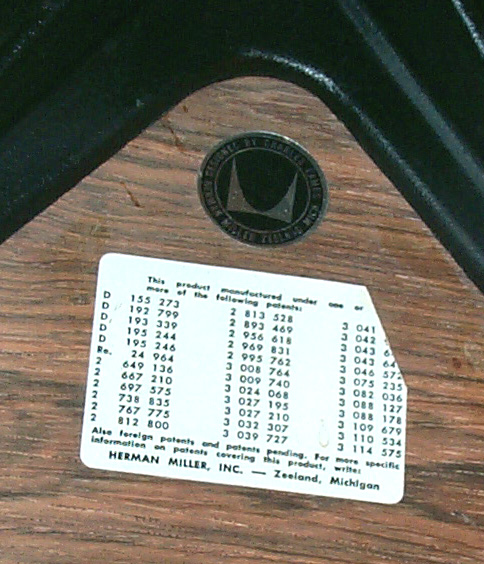 Baker Furniture Mahogany dining table, with three leaves, eight matching chairs
Matching Baker low sideboard, bracket feet, four blind doors below, five drawers above, 20" x 75" x 25"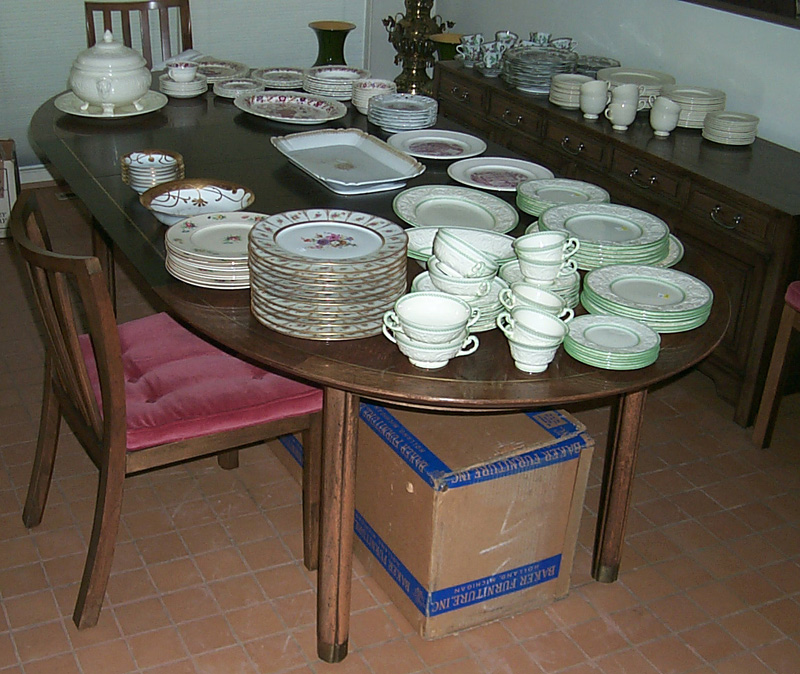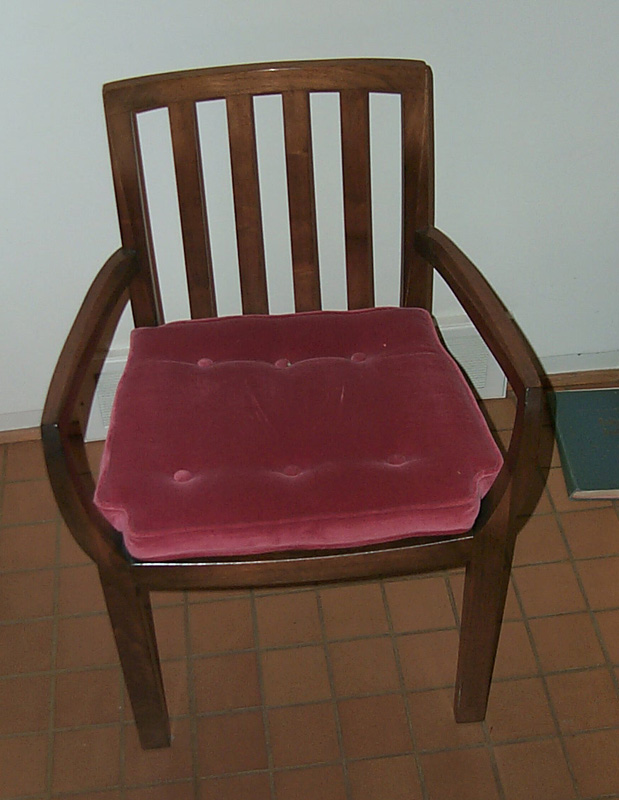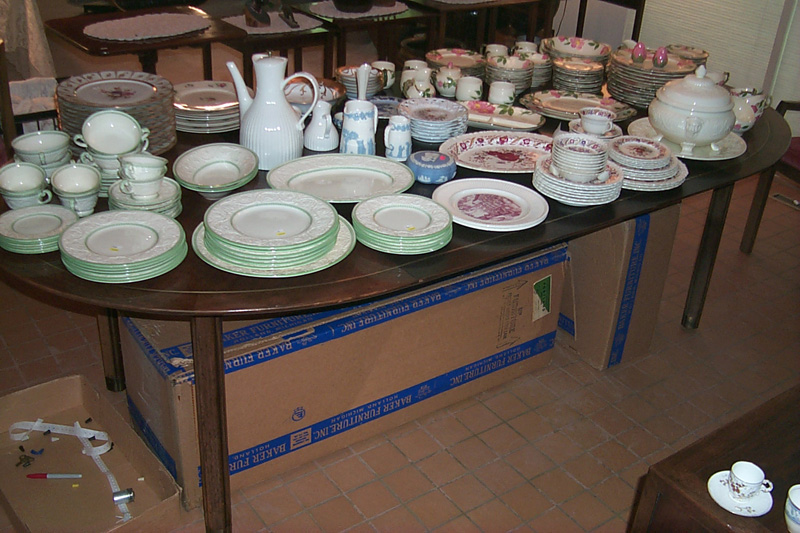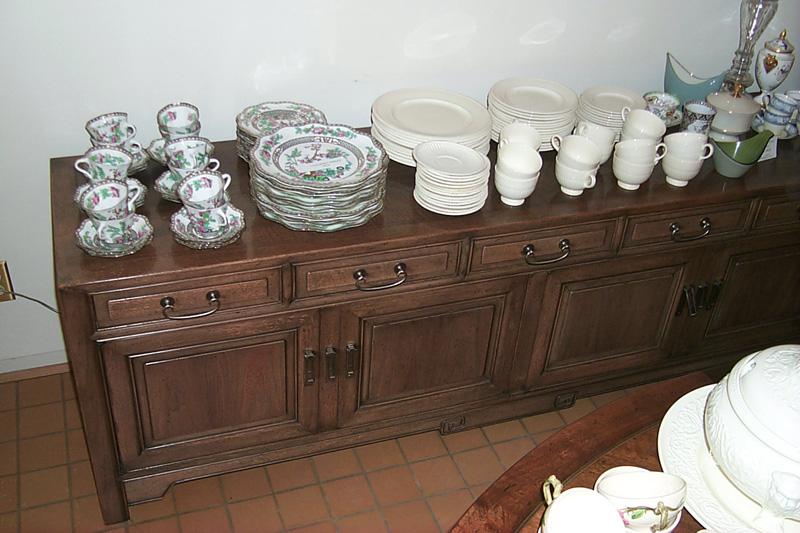 Baker Furniture long sofa, with matching upholstered easy chair, circa 1960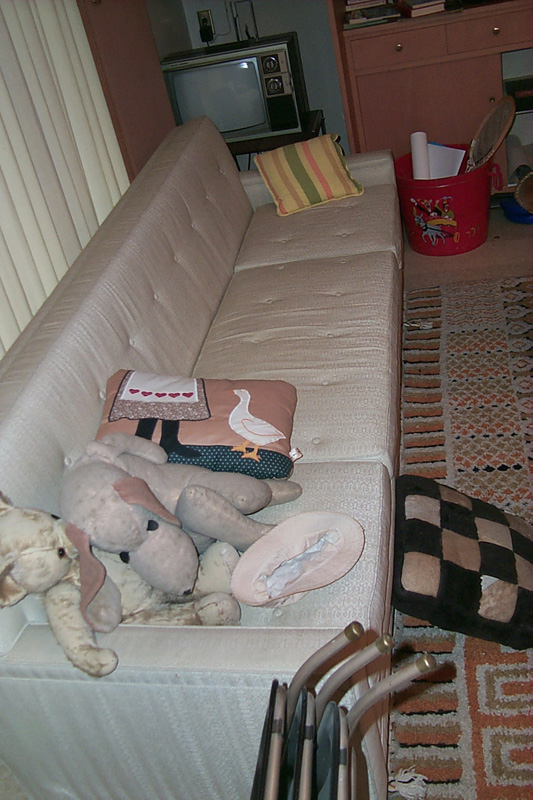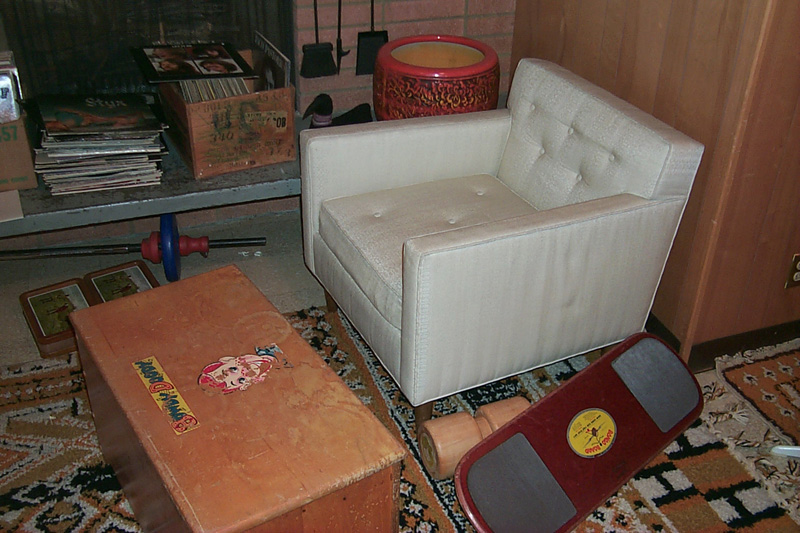 Pair of mahogany bowfront nightstands, two drawers, brass plated handles, 22" x 16" x 26", early twentieth century, one with damaged top
Mengel Furniture mahogany chest of five drawers, three full width below, two half width above, bracket feet, brass plated handles, 44" x 19" x 32", with matching wall mirror.
Matching chest of six drawers, 34" x 19" x 45"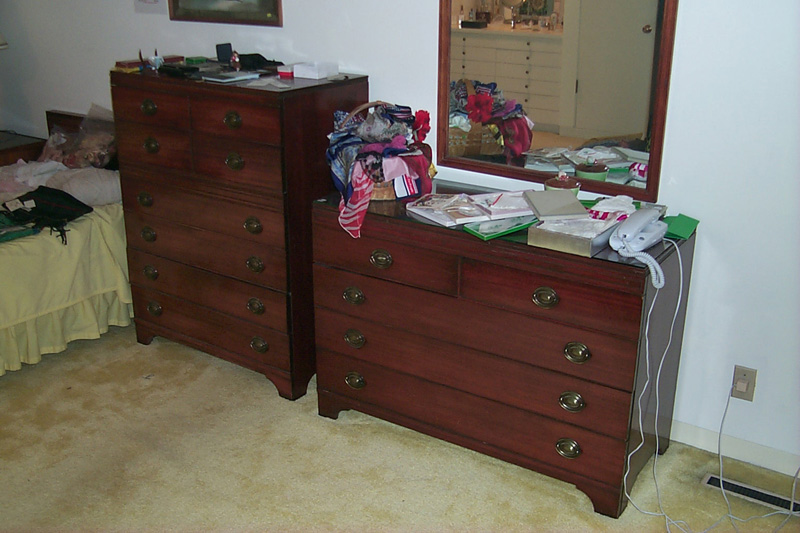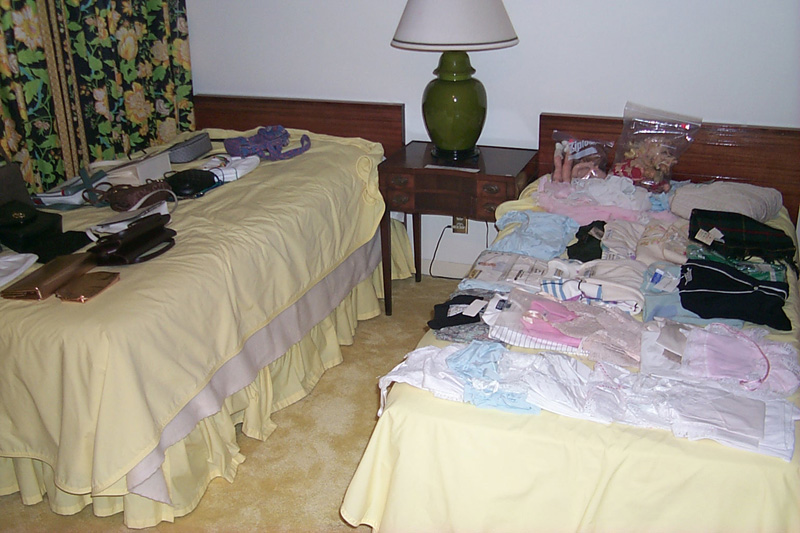 Pair of twin beds, mahogany headboard, frame, boxsprings, mattresses
Pair of upholstered low chairs with one ottoman, striped fabric
Maple chest of five drawers, bracket feet, 36" x 19" x 46"
Wicker over pine bedroom set, chest of three drawers, two drawer nightstand, side chair, second chest of three drawers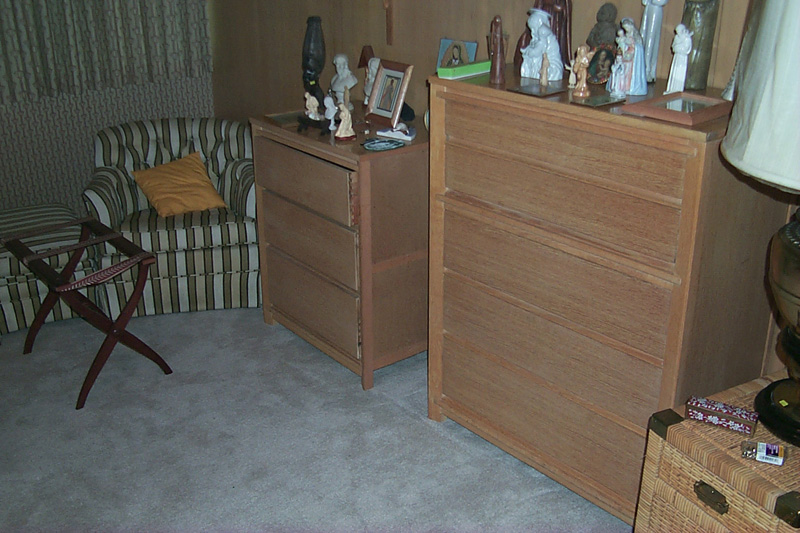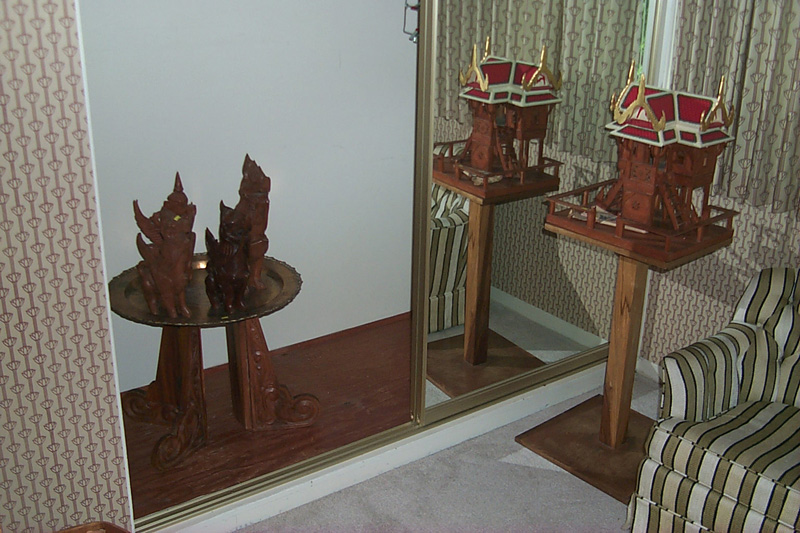 Maple chest of three drawers, 28" x 20" x 34", with matching single bed headboard, footboard, and sides
Pair of wicker over pine open five shelf display cases, 60"
Custom made contemporary oak conference table, 60" x 30" x 29"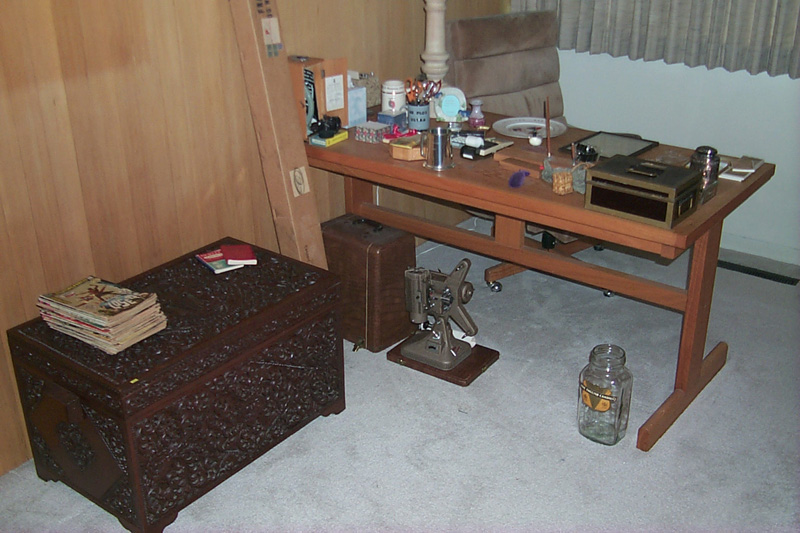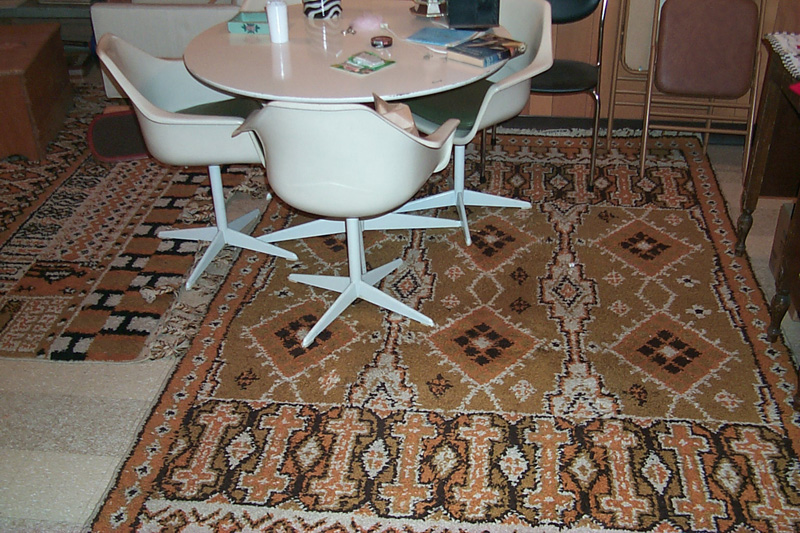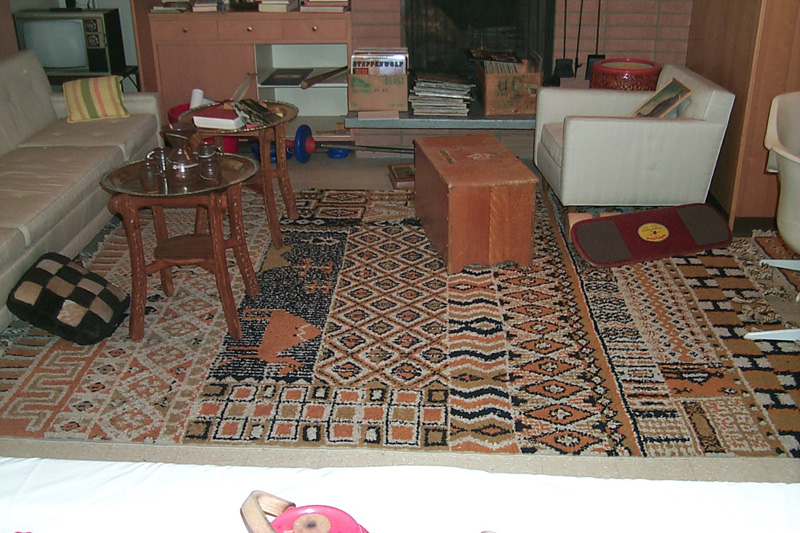 Three Eames style Moroccan handmade wool rugs, all purchased circa 1960
Set of four mahogany nesting tables, largest measures 28" x 18" x 29"
Eastlake rocker, cream colored upholstery
Eastlake side chair, matching cream upholstery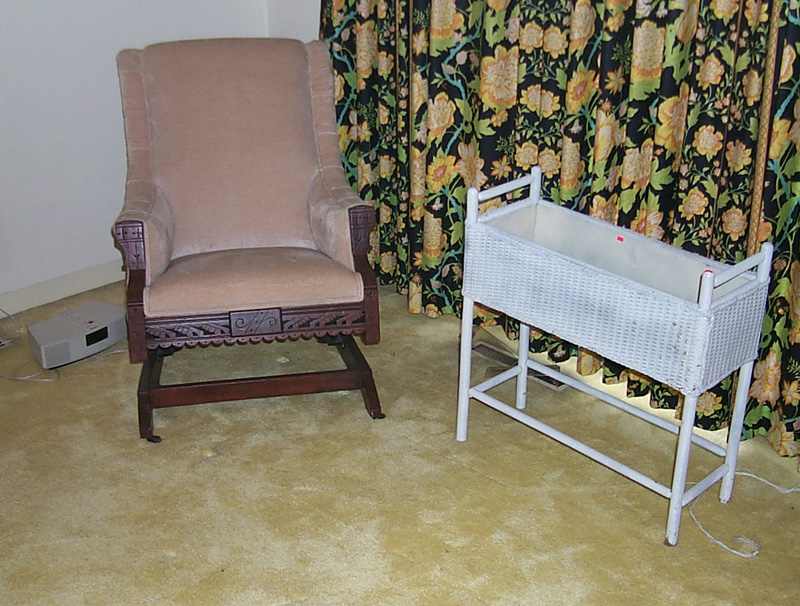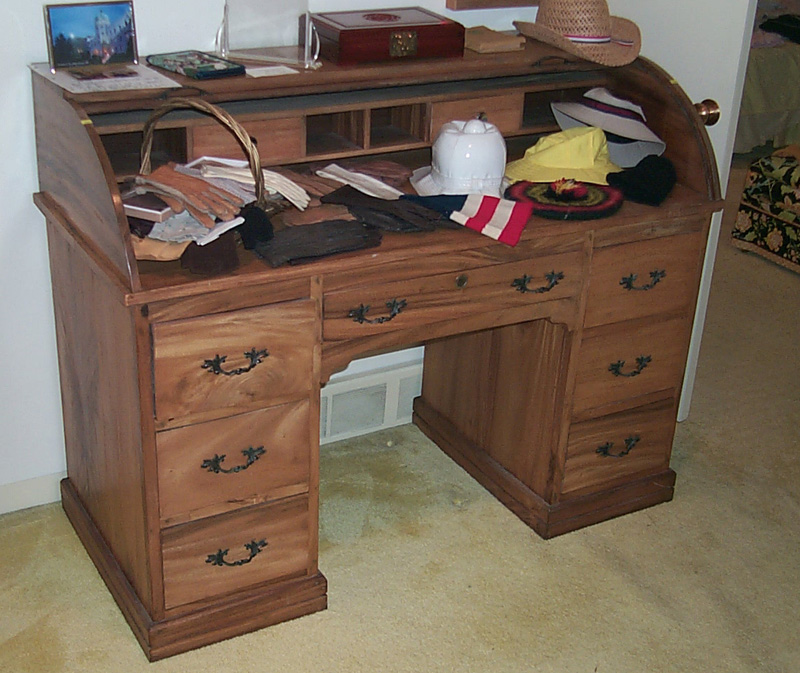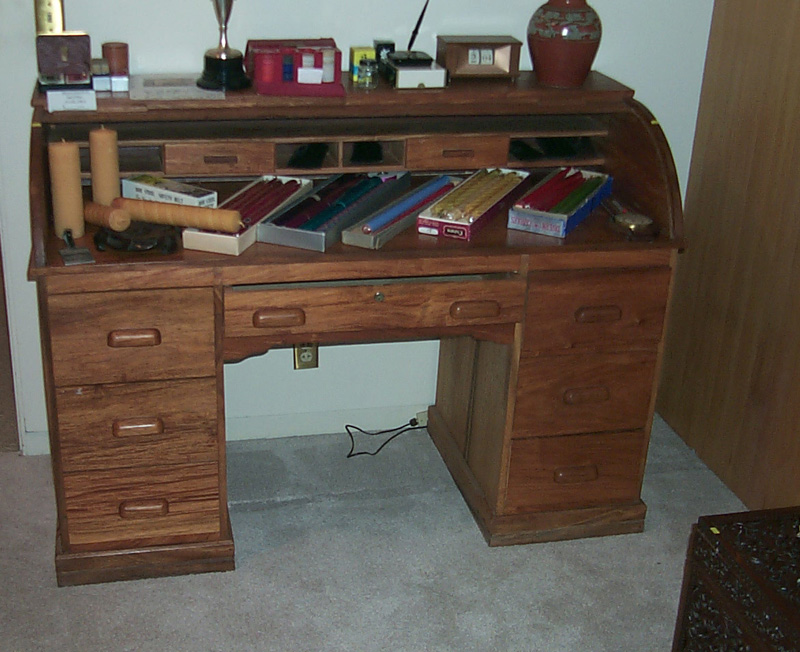 Pair of Philippine Roll Top desks, completely hand made without any electric tools
Philippine Acacia table, coffee table, nightstand style filing cabinets
STERLING SILVER:
6 Foot long table jammed full of sterling silver hollowware - over 90 pieces of hollowware, including a Wallace Washington pattern tea set , a Tiffany platter ,
a Bailey & Co. repoussé sterling silver footed vase , multiple candlesticks, bowls, platters, salt and peppers, and more, plus over 30 collector's spoons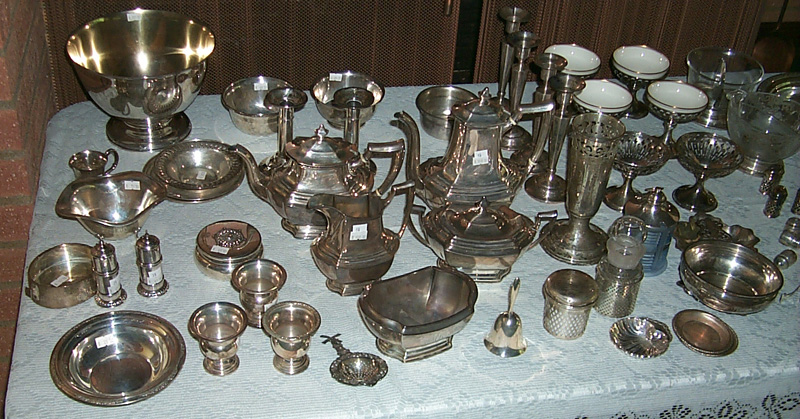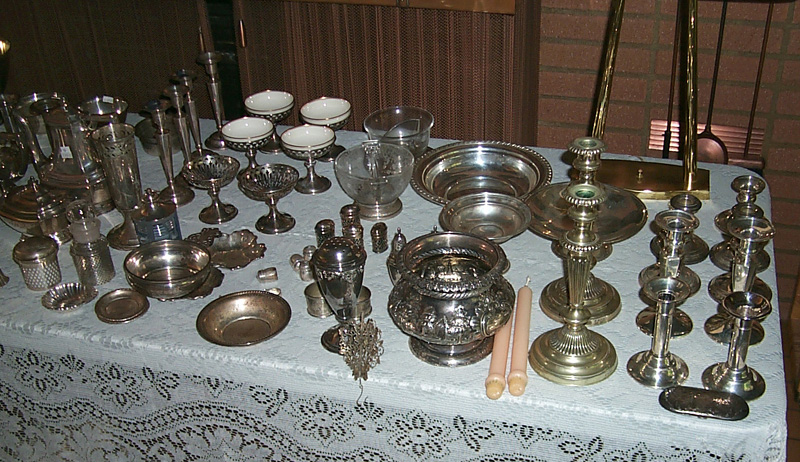 SILVERPLATE:
Another two tables jammed with silverplate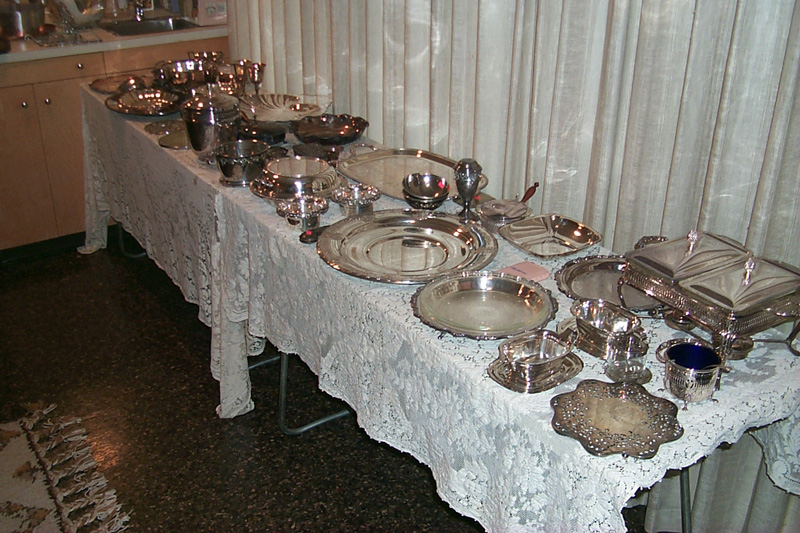 JEWELRY:
Gent's Waltham gold filled open face 7 jewel movement size 12 pocket watch, cracked dial
Lady's 18K yellow gold (stamped) hummingbird theme pin
Lady's 18K yellow gold (stamped) two birds and a nest theme pin
Lady's 14K yellow gold strap bracelet, Edwardian
Lady's 14K yellow gold (stamped) rope edge lapis cabochon bracelet
Lady's 14K yellow gold two flying Canadian Geese theme pin
Lady's 14K yellow gold (stamped) bar pin, engraved, with three seed pearls, Edwardian
Gent's Omega base metal tank case watch, 3871/1, 17 jewel movement
Lady's Piaget lapis face diamond bezel 18K yellow gold (stamped) gold mesh strap wristwatch, model 6826 KS, serial number 231430, 6 ½"
COLLECTIBLES:
Wonderful selection of Early American Period cut glass, over 45 pieces! including
Libbey - 6 pieces, all signed, including a fabulous center vase
Tuthill - 2 pieces, one signed
Also signed Clark, Hawkes, and Corning, as well as many unsigned pieces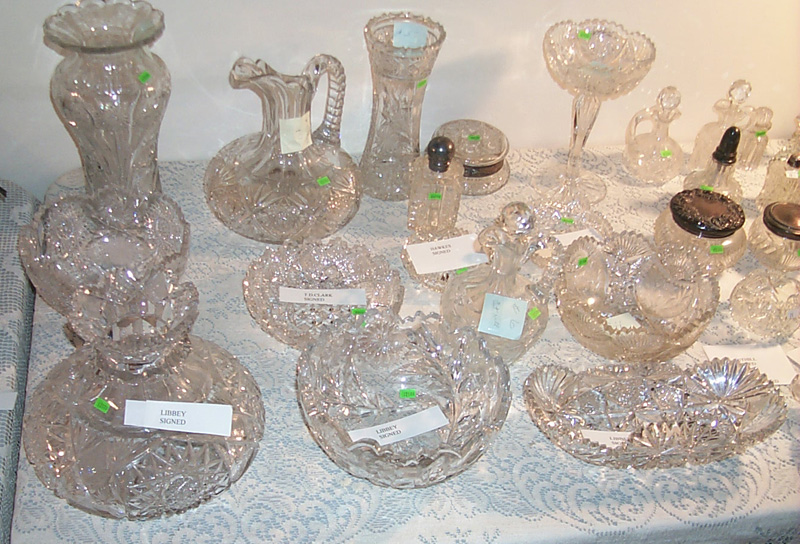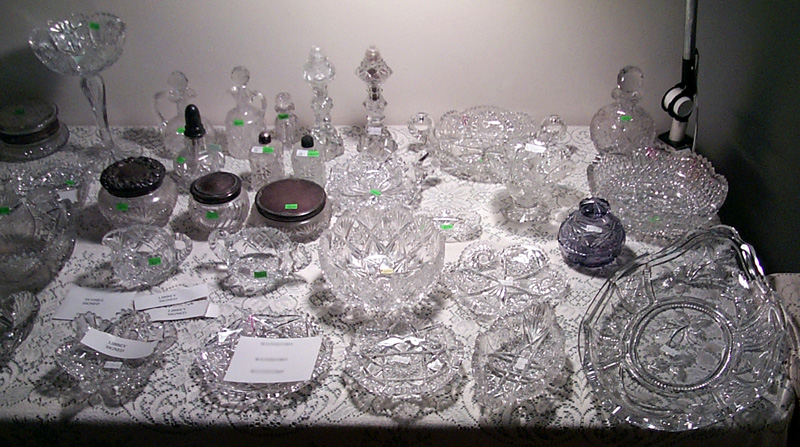 Collectible Glass - multiple Lalique Steuben bowl , Baccarat eagle , multiple Murano , Swarovski , Val St. Lambert Waterford figurine ;
also Shelley teacup , Belleek salts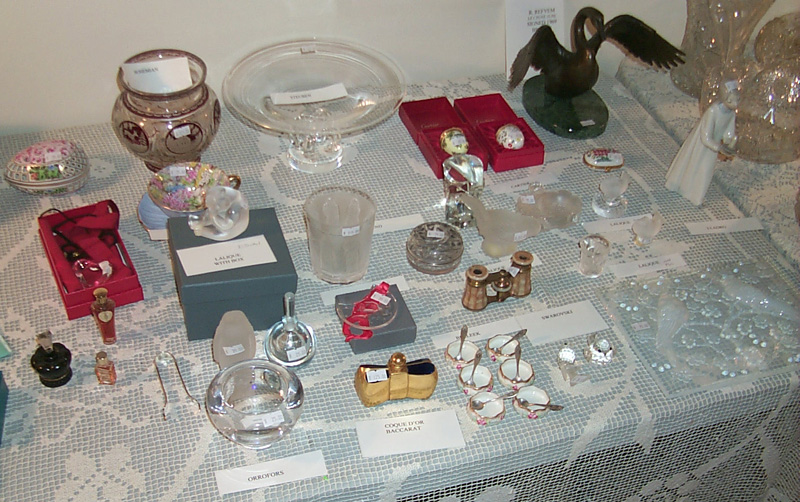 Stemware - over 60 Waterford glasses and goblets
China - about a dozen each Boehm Birds, Lenox Birds, two Howard Pierce birds, two Goebel Birds, more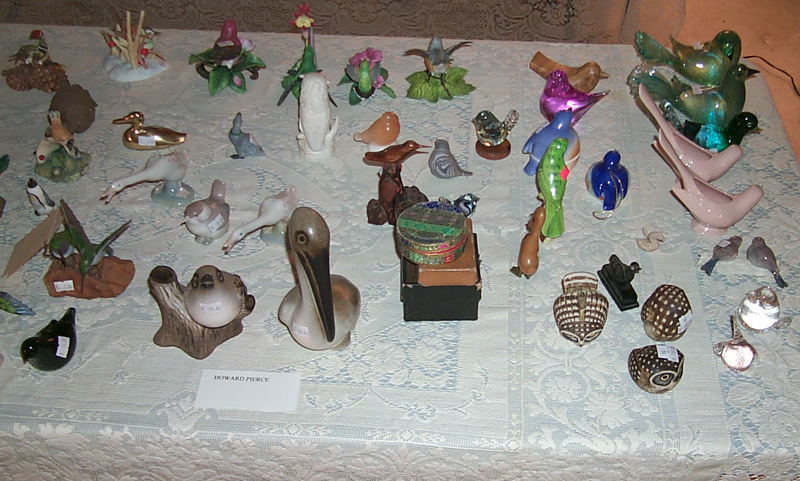 Lots of Misc., Belleek, Hagenauer , sterling and glass, Dorothy Thorpe , inkwells, salts, ship's clock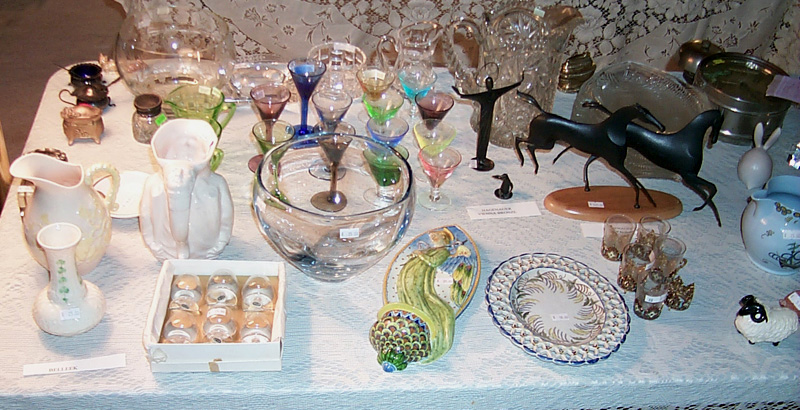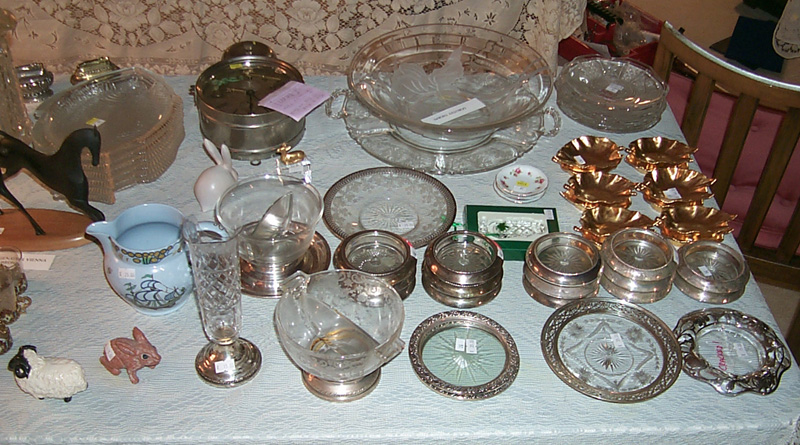 Three sets of Wedgwood China - Edme, Patrician, Cornflower patterns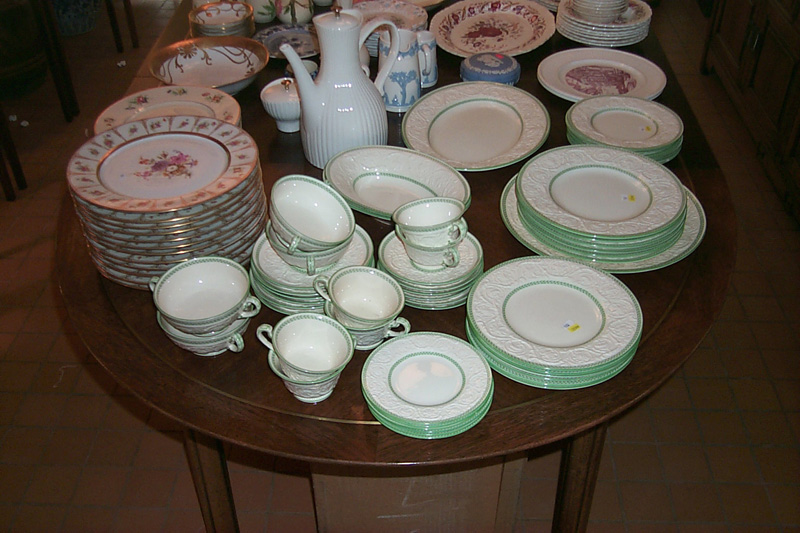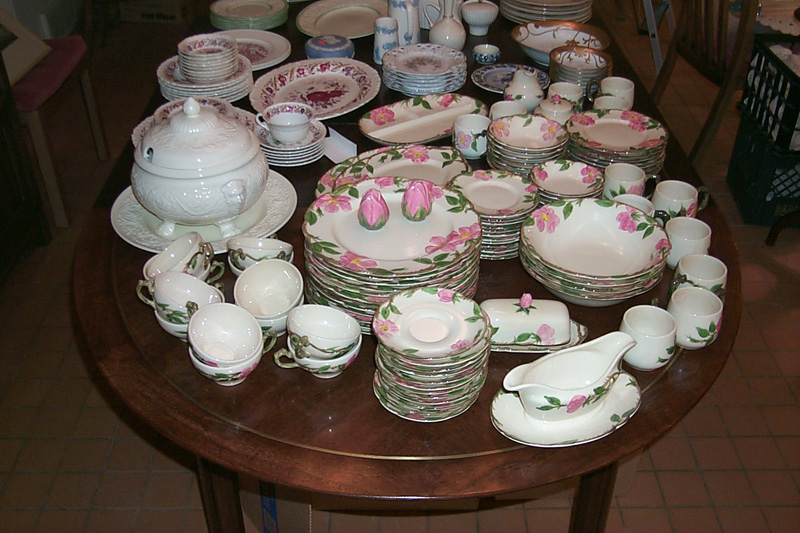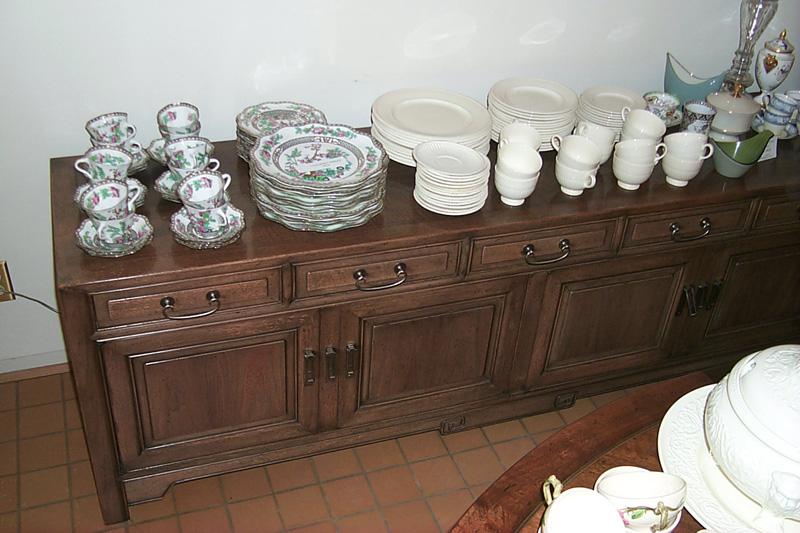 Franciscan China, American backstamp - Desert Rose pattern, place setting for 12 with many servers
Coalport China - Indian Tree pattern, place setting for 12
Decorative Brass items - more than 50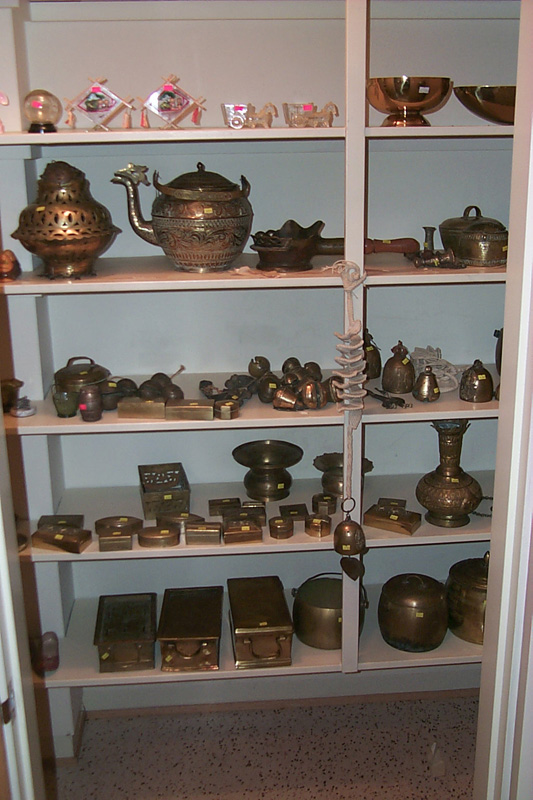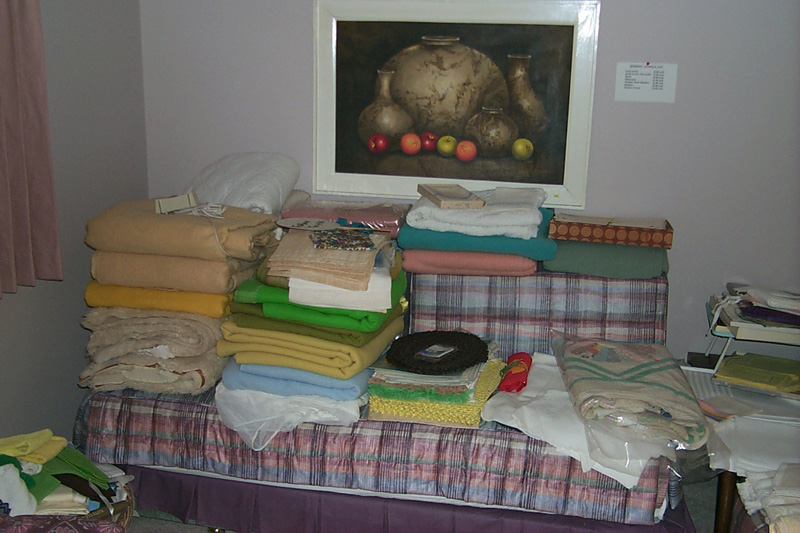 Linens, clothes, some vintage
More than 500 books
Multiple vintage golf trophies, Sterling, silver plate, base metal
Pottery - About half of what is pictured below is Song Dynasty pottery, all from China via the Philippines . The rest is various older pieces, also all collected in the Philippines.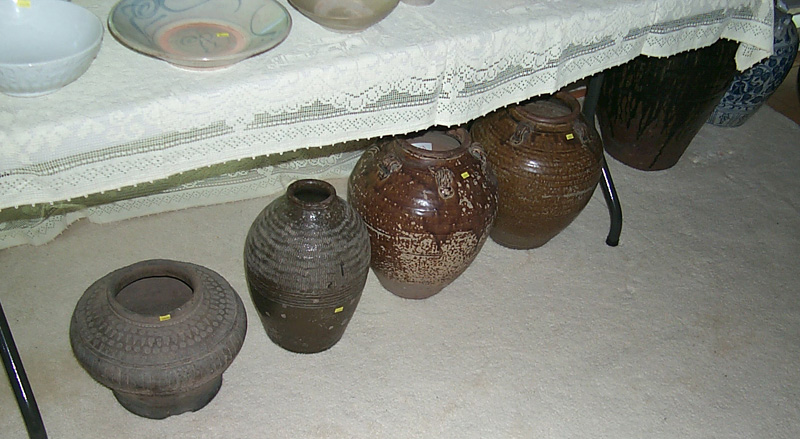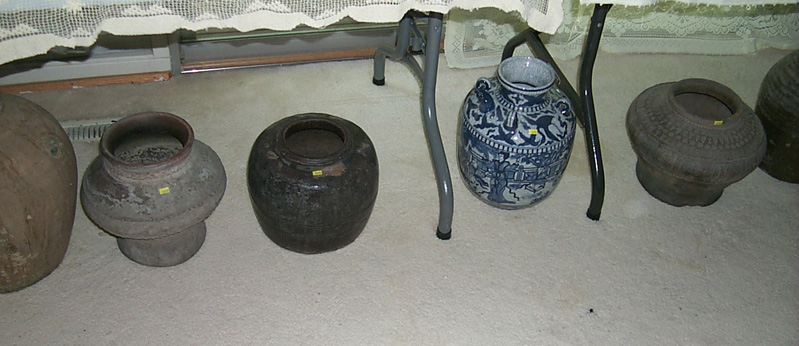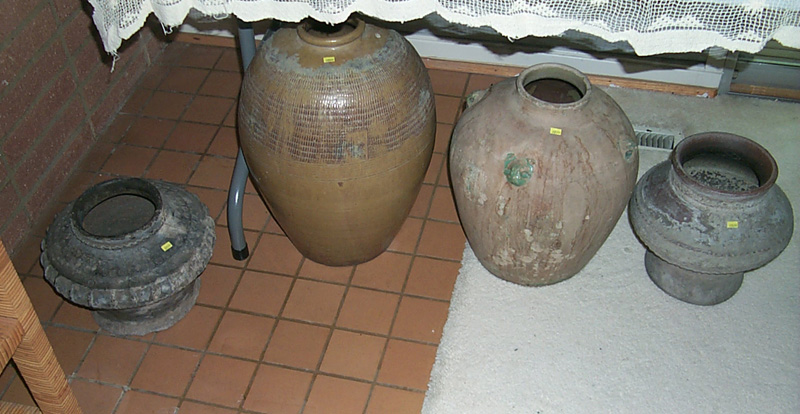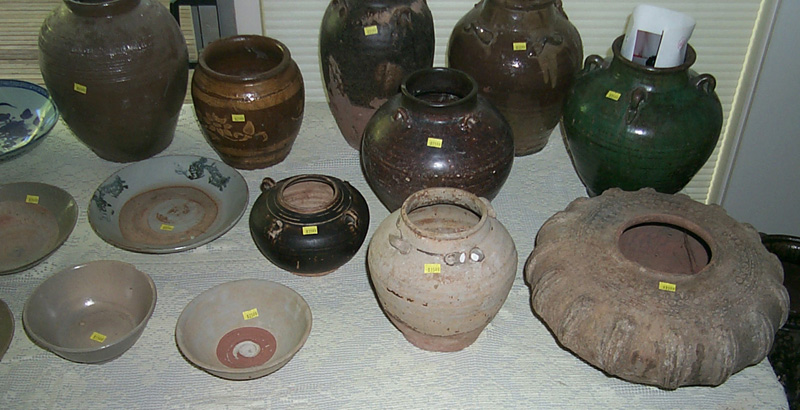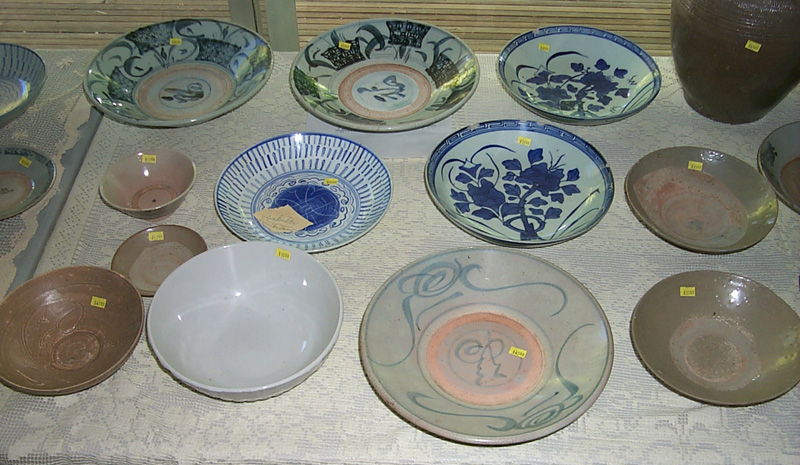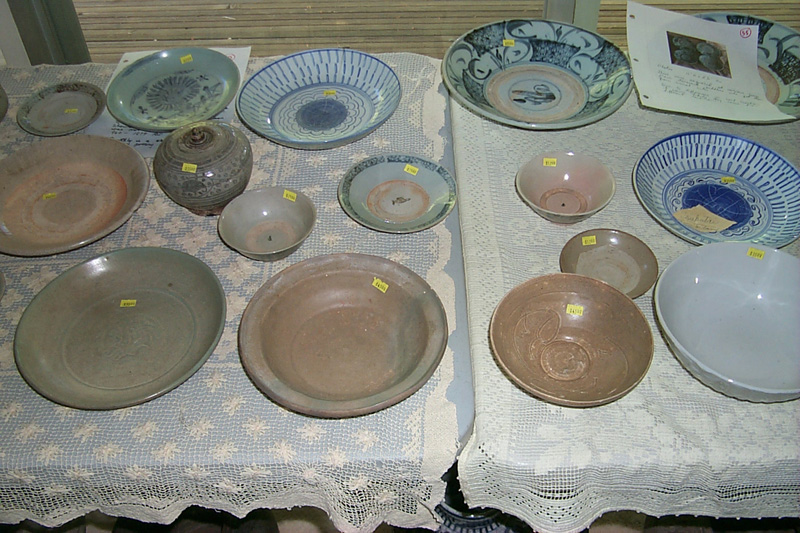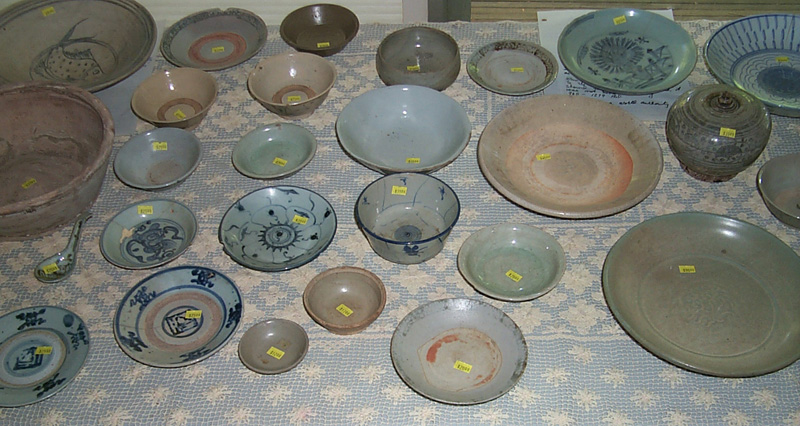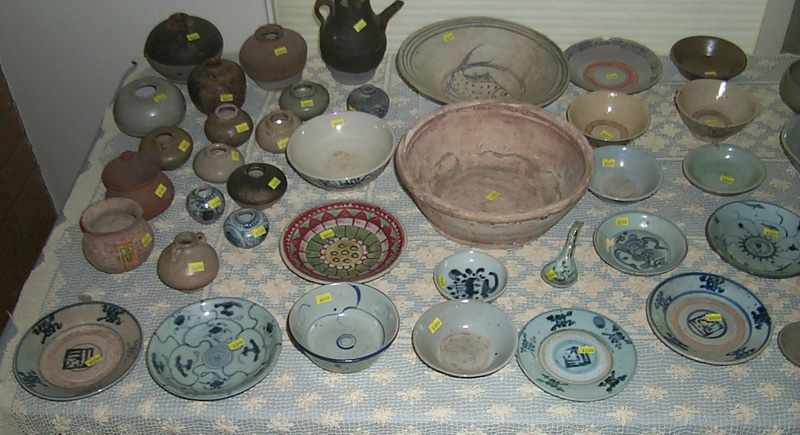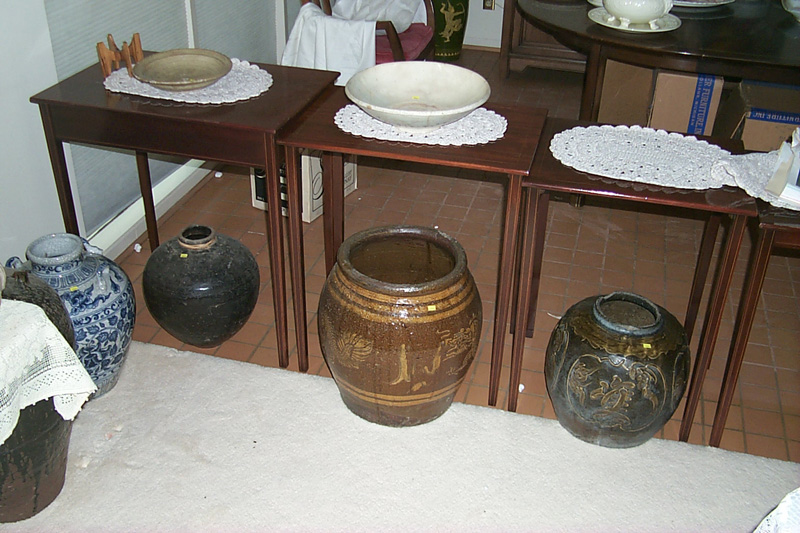 APPLIANCES:
Kitchenaid Superba 22' side by side refrigerator, purchased in 2000 for $1600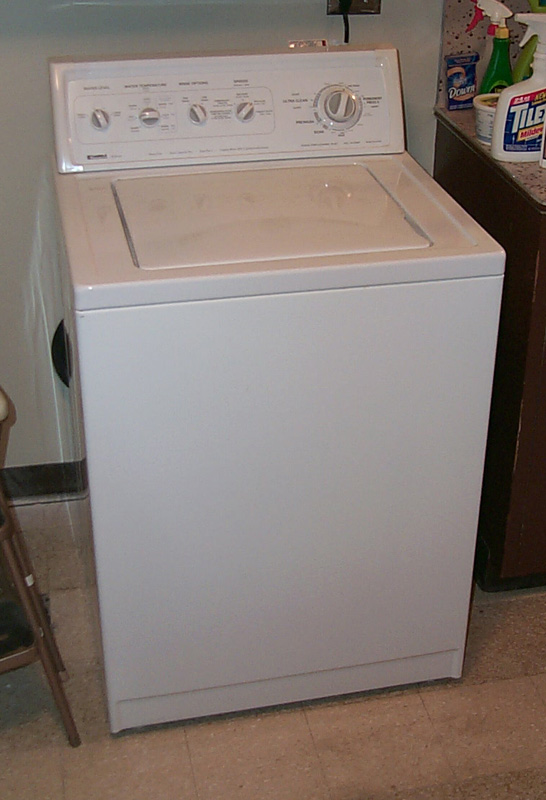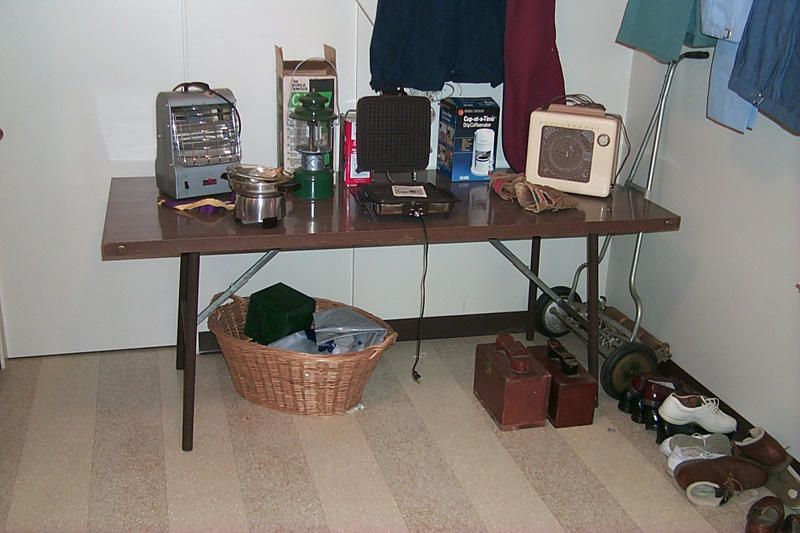 Kenmore series 90 washer, 4 temperatures, 5 cycles, manufactured circa 2000